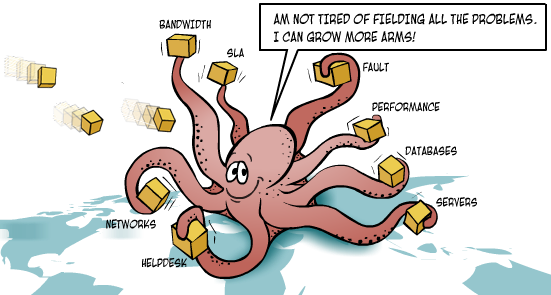 IMS: The Affordable, Unified Platform for MSPs

Deliver IT Infrastructure management services to your customers world-wide without the pain of juggling multiple tools or spending beyond your budget. ManageEngine Infrastructure Management Solution (IMS), the new offering from ManageEngine, is an integrated solution aimed at addressing the remote infrastructure management needs of Managed Service Providers.
Robust, distributed and scalable application architecture, reduced operations costs, high service levels, high availability, ITIL compliant helpdesk, besides the flexibility to integrate and customize the solution on a need-basis, makes ManageEngine IMS an attractive alternative to the expensive and complex solutions already available.
Spot a traffic bottleneck, identify an application fault, be warned of violating a customer SLA, get a technician to know of a fault before it turns into a potential threat, and field almost any fault in the network, all these from the comfort of your office. Test-drive ManageEngine IMS now and feel the power!
IN THIS EDITION

ADAudit Plus now supports Windows server 2008 & 2008 R2

ADAudit Plus 4.0 Service Pack 4 is out. Support for Windows Server 2008 and 2008 R2 Active Directory are the highlights of this release. It also provides audit reports on Domain Controller logon/logoff activities. Check out the features/enhancements of this latest release and download your free copy today.

DeviceExpert supports F5, Alcatel, Hitachi

The latest release, DeviceExpert 5410 supports configuration management of new device vendors such as F5, Alcatel and Hitachi. The release includes enhancements in switch-port mapper tool, configuration changes report, option to specify custom criteria to ignore certain specific lines while generating configuration difference and much more.

Log a Call using SupportCenter Plus

SupportCenter Plus (Build No: 7508) comes with an interface to quickly log a call for the caller. A Support Rep can log a call for a user based on the caller information already available in the database or can initiate one using the 'First Call Report' form. This release also allows you to define Response time based SLAs.

Desktop Central supports non-Microsoft Patch Management

Desktop Central, in its recent update, included support for deploying patches to non-Microsoft applications such as Adobe and Firefox. This means, administrators will now be able to patch the applications from different vendors from a central point using Desktop Central's Patch Management feature.

ADSelfService Plus and

Windows 7

ADSelfService Plus announced its latest build release (Build No: 4420) this week. It now extends:

Support for Windows 7, the latest buzz in the IT world.
Support for fine grained password policies of Windows Server 2008 Active Directory.

Password Management Best Practices in Password Manager Pro

While setting up Password Manager Pro in enterprise environment, adherence to certain best practices could help bolster data security. To offer guidance to IT administrators when they set up the software for use in their production environment, a best practices guide has been released. Best practices during all stages - product installation, configuration, setup and deployment have been explained with special focus on data security. In addition, the best password management practices in general have also been explained wherever required.

Enjoy 40% discount on all user packages of Site24x7

Site24x7, the website monitoring service which monitors websites from 17 different geographical locations worldwide, has special plans for users this festive season. Users purchasing Site24x7 now can get up to 40% discount on their first bill. This offer is applicable on all the user packages offered by Site24x7.

Consolidate in-house scripts & build dashboards across business apps with Applications Manager

With Applications Manager you can consolidate your in-house scripts that run on your servers, monitor custom applications and even integrate business metrics easily. Once you start monitoring, Applications Manager provides reports, Business Service Views and generates alarms. Know more about Script Monitors and Custom Monitors.



2009 ZOHO Corp. All rights reserved. ManageEngine is a trade mark of ZOHO Corp.
All other company and product names may be trademark of the respective companies with which they are associated.