Hey there,
We've had a busy month and have a ton of exciting news for you! So, let's get right into it.
We're delighted to announce that ServiceDesk Plus received the PinkVERIFY 2011 certification for its IT asset management process, earning ServiceDesk Plus its fourth PinkVERIFY 2011 certification.

Moving right along from asset management, ServiceDesk Plus' new resource management feature is now available in the cloud version. It improves task efficiency by planning, managing, and keeping track of tasks assigned to technicians with graphical visualizations of workloads.
In other news, the second episode of our fireside chat series is out now. Join Raj Sabhlok, president of ManageEngine, and Rajesh Ganesan, vice president of ManageEngine, as they discuss the launch of Zia, Zoho's AI assistant, as a virtual support agent for ServiceDesk Plus.

We've also developed a comprehensive, one-stop help desk guide for some of the most common help desk support questions. This guide explains implementation, best practices, metrics, and other key aspects of help desks. Check it out and share with your peers.
Speaking of chatting with your peers, you can meet plenty of IT pros at ManageEngine's first-ever Toronto User Conference. We'll be at the Sheraton Center in Toronto from September 10-12. Don't miss it!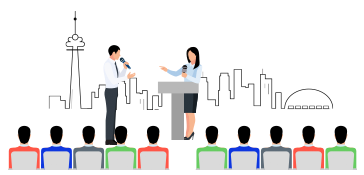 That's all we have for now. If you'd like to stay in touch and receive regular updates on product videos, tutorials, and resources, follow us on




Until next time
Jendra John
The ServiceDesk Plus team